CNC machines for all applications 
As an all-round provider with a focus on innovation in the machine tool construction sector, DMG MORI offers a comprehensive range of machines that can be used in virtually all areas of metal processing. The range of materials covers everything from non-ferrous metals,  steel and stainless steel to very strong alloys. In addition, there are applications for processing plastics, composite materials and even glass and diamond. The variety of production solutions means that CNC machines from DMG MORI have been working reliably in all industries for decades. This includes, in particular, key industries such as tool and mould construction, the aerospace sector, medical technology and the semi-conductor industry.
Buying the right CNC machine
DMG MORI's broad product range is modular, which means customers can always find the individual and efficient production solutions they need. Modern CNC control systems allow for convenient programming and user-friendly operation. The CNC machine manufacturer covers all the key technologies: versatile and productive lathe centres and milling machines with high precision represent the traditional base of the product range. Consistent development of DMG MORI's high-performance range has also led to the ULTRASONIC and LASERTEC series for processing advanced materials. Production solutions for additive manufacturing and grinding completes the range of CNC machines.
Turning: from universal turning to 6-sided turning and milling
Milling: from 3-axis milling to 5-axis simultaneous machining
ULTRASONIC: ultrasound-supported cutting of extremely strong materials
LASERTEC: 30 years of expertise in laser precision machining
Additive manufacturing: metallic 3D printing in a powder bed or using a powder nozzle
Grinding: finalising geometries with high precision and the best quality surfaces
CNC machine portfolio for technological variety 
Turning
DMG MORI serves almost every segment of turning technology with around 20 series. Versatile universal lathes increase production capacity, while innovative turning and milling centres facilitate complete 6-sided machining of the most demanding shapes. Extremely cost-effective production lathes allow efficient series production. The lathes have the latest components, from robust guide tracks and linear guides, to powerful main spindles and compact milling spindles, to extremely precise position monitoring systems and comprehensive cooling technology. In this way, DMG MORI ensures productive and precise manufacturing of complex workpieces.
Milling
CNC milling machines from DMG MORI have been setting the standards in metal machining for some time. They are a byword for maximum performance and reliability and absolute precision. The milling product range encompasses vertical milling machines for any workpiece size, horizontal machining centres for cost-effective series production and universal machining centres for complete productive machining with 5 axes. 5-axis simultaneous machining, as the king of milling disciplines, offers the greatest flexibility here, because it allows cost-effective production of complex geometries and shapes.
ULTRASONIC
The ULTRASONIC machines from DMG MORI are based on the principle of ultrasound-assisted cutting. This involves simultaneously overlaying tool rotation with oscillating axial movement in the high-frequency range as an additional effective component for removing material. This so-called piezo-electrical effect is used to remove the smallest particles from the surface of the workpiece. The ULTRASONIC technology makes machining of extremely strong materials such as ceramics, silicon and glass possible and also achieves the highest quality surface finishes. This is useful, for example, in applications in the semi-conductor industry, where the ULTRASONIC MicroDrill microscopic drilling spindle cuts countless holes with a diameter of 0.1 mm in glass or ceramic components.
LASERTEC
From a delicate embossing tool to dashboards for cars, from a small helicopter turbine blade to a combustion chamber for large industrial gas turbines – the LASERTEC series from DMG MORI offers the right machine platform for any application. With 30 years of expertise behind it, the CNC machine manufacturer is regarded as a pioneer of laser machining. The LASERTEC Shape, LASERTEC PrecisionTool and LASERTEC PowerDrill are always opening up new potential for producing technical surface structures, press stamps, engravings, diamond tools, labels and holes. As a result, conventional machining methods such as eroding and grinding can be replaced in LASERTEC machines with contactless and therefore wear-free processing.
 
Additive manufacturing 
As a global full-liner with over 20 years of experience in additive manufacturing of metallic components, DMG MORI is as familiar with the trends in this area of technology as it is with the real requirements of future-orientated production. Aligned with the requirements of small, medium-sized and large enterprises, the manufacturer of machine tools concentrates its strength in innovation on the technologies of SLM (laser melting in a powder bed), DED (application process using a powder nozzle) and hybrid processes that combine machining and generative technologies. The aim is to optimise the production process using additive manufacturing.
Grinding
Grinding is a conventional machining process which finishes components that have previously been turned or milled with maximum precision and the best surface quality. Thanks to the takeover of TAIYO KOKI 20 years ago, DMG MORI has decades of experience in grinding technology. This is the basis for an innovative range of machines in this segment. Vertical grinding machines for internal, external and face grinding are part of the DMG MORI portfolio, as are rotary grinding machines of various sizes. Their range of applications covers everything from machining small, mass-produced parts for the vehicle industry to multiple machining of tool spindles.
Process integration and automated manufacturing
DMG MORI uses its many years of expertise in these areas of technology to achieve ever more productive manufacturing solutions. This requires integrated thinking across complete manufacturing processes. DMG MORI is increasingly bringing together multiple technologies in one working space. Through this process integration, workpieces can be turned, milled and ground with one clamping process, for example. This reduces cycle times and increases the quality of complex components because manual re-clamping is no longer required.
Additional productivity using flexible automation solutions wins over users. DMG MORI offers this in the form of workpiece and pallet handling systems and robot-assisted products in its range. They include the compact WH 3 Cell for automated production of large volumes in the small parts sector, the modular PH Cell models as individually configurable pallet handling systems and the Robo2Go family for flexible automation of small batch sizes on lathes and machining centres.
GREENMODE - Energy- and emission-efficient operation at the customer's site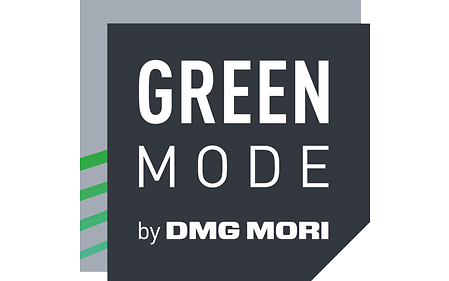 With GREENMODE, energy consumption can be reduced by over 30%
CNC tool machines: a quick summary
How does a CNC machine work? 
How does a CNC machine work? 
A Computerised Numerical Control (CNC) is a computer-based machine control system. CNC machines are therefore able to machine workpieces in accordance with an appropriate CNC program with maximum precision.
Where are CNC machines used? 
Where are CNC machines used? 
Medical equipment, aerospace and tool and mould construction – any type of production in which workpieces are milled, turned or ground depends on CNC machines. Only they are able to produce sometimes complex geometries with the necessary precision in a cost-effective way.
What are the advantages of a CNC machine?
What are the advantages of a CNC machine?
Computer-assisted control of a CNC machine is superior to manual control because it works much more precisely and thus meets the highest quality requirements. In addition, production with the aid of CNC machines is extremely efficient and therefore cost-effective.